Thank you for visiting!
For a look at events passed, please scroll through the archives below.
April 2009

Thanks to all the students who came to discover the art of feltmaking last month. Our skillshare workshop produced a remarkable small round carpet which you can view soon. Felt from the Heart brought some new skills to the hands of eager students. Special thanks to Le Nid de la Cigogne, the Mile-End Soap Supply, Eastern Bloc and the "Voices for Indigenous Women" organizers.
September 14th, 2008

Return of the Ethical Expo! Join WTCF for the second annual ModEthik fashion event of the year all day at the Biosphere September 19th & 20th. Experience a free demonstration on the art feltmaking at 3pm.
For the complete scheduale visit:
modEthik.org
June 3rd, 2008

Warm breezes and sunny skies bright enough to mesmerize lie just around the corner...our advice, take a stroll and you'll be amazed at what you can discover!
March 26th, 2008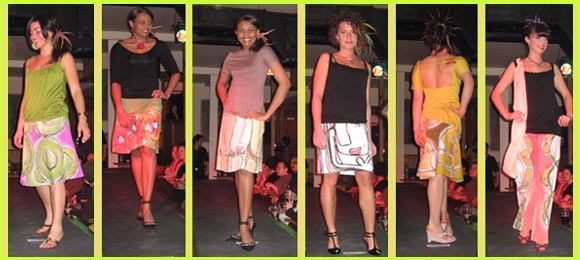 Go-op glamour went off like a hit!
ModEthik
in collaboration with stylist
Gerald Pitt
launched their lastest line of Ethical Fashions in Montreal's Mile-end. The 2008 collection featured colorful hand painted fabrics from Colombia, retro colorways from retailer Belle & Rebelle, and
hot hair
accessories by whothecapfit
March 17th, 2008
As the hours of daylight are getting longer, so does our yearning for the revelation of spring that will soon surround us. Why wait any longer? Immerse yourself in these veritable vibrations and break free of winter wanting.
February 20, 2008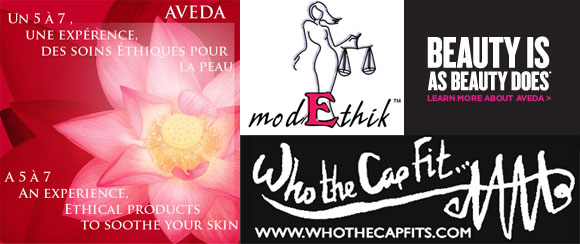 In accordance with Montreal based non-profit organization
ModEthik
, whothecapfit has been invited to showcase our latest line of accessories as Ethical Fashion Designer of the Month. Hosted by
Aveda
next Wednesday Feb 27th, you are encouraged to participate in an evening of interactive beauty workshops with one of the most progressive companies in the industry.
February 6, 2008

This February marks the launch of our new offshoot, Fiberalley, featuring a fine line of accessories for all occasions now available online at
Esty.com
and locally at
l'Arterie
and
Boutique Katrin LeBlond
. Warm up with vibrant shades of marbles, cosmos, and cut-out pins made from recuperated hand-crafted felt.
December 8, 2007

Reach for the cosmos this season with vibrant strands of color and light! May the celestial contours of our cloche caps cozy your ears as wooly marbles tickle the tips of frosty fingers. Grab something warming this month at a little known sale called
Hot Cakes
the 14th, 15th & 16th of December.
September 30, 2007

Autumn abundance in accents of merino and corriedale. Cozy cloche and crush caps in all shades and colors now available at
Katrin LeBlond's
Boutique on St. Laurent by Villeneuve.
September 7 + 8, 2007

WTCF is pleased to have participated in the Second Edition of
modEthik
Ethical & Fair-Trade Fashion Show hosted by
FEM International
. Highlights included a donation for the Silent Auction fundraiser, plus our FIRST EVER needle-felting workshop. Special thanks to Valerie, Jamye and all those who participated!
August 8, 2007

Sunkissed and brazen, the summer breeze rolls on...Eva explores casual contours in felt. Breatheable and lightweight, an easy fit all her own. more styles available soon at
Katrin LeBlond
on St. Laurent.
June 8, 2007

Righteous reinforcement strands of black, white, red, gold and green. Built to last from all natural, new and recycled materials with the help of seamstress Bukuya. Imperial wear for when equality in strength, style and comfort matters.
May 18, 2007

Colorful and slim fitting, slip into a contoured spring cloche at
Thin Ice
located at Elmwood and Breckenridge. Check early next month for original recycled leather hand crafted wallets at the
St. Laurent Street Sale
by whothecapfit nomadic contributor Brandie McGee.
May 2, 2007
Grab hold of our new line of May Wraps at the Ecological Expo-vente hosted by FEM International this Saturday, cinco de mayo. Its happening at Cafe Art et The, located at 2055 Rue Bishop from 4 - 7pm.
For more info visit :: www.feminternational.org
March 28, 2007

Hints of spring revealed as bright new felt laminates. Soft as wool, yet given the added strength of a thin hidden layer of cotton muslin. Let April showers wash away your longings as we prepare for Spring's awakening!
February 16, 2007

Bundle up and prepare to ship out, this month features heavy duty custom caps entailing double thickness, reinforced stitching and extra strength caps from scrap. Far out destinations include New Delhi, Rochester and Northern California all fit to order. Thanks friends, remember to send us pictures if you can!
January 15, 2007
As we have moved into the New Year, I would like to reflect for a moment and thank again each and every one of you for your support and guidance along this path of felt and fiber enthusiasm. If I am fortunate enough to pass another year as plentiful in love, family and purpose as 2006, I will feel blessed!
December 9. 2006

Thanks to all those who attended, organized and participated in the Willingdon School Arts and Craft Fair in NDG. Delicious baked goods and a friendly atmosphere made this event enjoyable for folks of all shapes and sizes...
November 30. 2006

They're here! This fiber selector has been busy bringing the finest fibers to brighten your day. Choose from brilliant tangerine, balsam green, electric purple, pink blush or burgundy...and more. Ask about seasonal specialty fibers that are available in limited quantities.
November 2006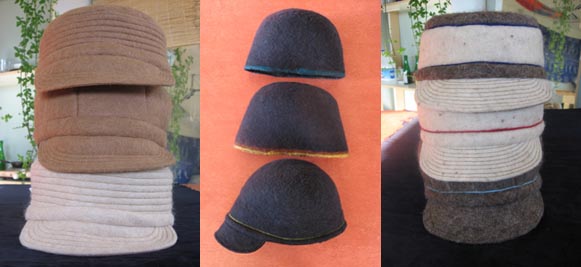 >Winter worthy felt caps: Robust Alpaca All-Natural Goodness, Smooth Black Merino, Crisp Needle Felted Naturals. You can feel out these caps first hand at Montreal's own Co-op la Maison Verte.
October 2006 Update

>Just back from Americas dairyland, aka beautiful Madison, Wisconsin. A short but exciting adventure which involved lots of trains, buses and automobiles, squeaky cheese, tasty texas speedball ipa and the union of my cousin Graham and his new wife Sarah! Congrats you two, and have a fantastic honeymoon in Belize.
>We are pleased to announce a new partnership with an independent artisanal retailer in Buffalo, New York called Thin Ice, started by a friendly young entrepreneur and her cat. Check our their site
www.ThinIceOnline.com
or give them a visit at 719 Elmwood, corner of Breckenridge.
>WhotheCapFit gets promoted by up and coming reggae songstress in her first music video filmed in and around Montreal!. Check out singer/songwriter Auresia at
www.myspace.com/Auresia
for samples of her music and more details on the release date of her video.
>A new blue/grey Norwegian Wool fiber is now available! This fiber is undyed and features a nice spectrum of hues, ranging from light grey to black. Photos have recently been posted on the
Fibers
page. Great for many industrious applications like insoles, pot holders, small carpets, extra durable caps and more ...

>Throw-back style felt flower brooches and pins for your hair, your cap or your coat. Brightly colored and made from all recycled materials, no two flowers are alike. You can find these unique and affordable accessories in Montreal at the
Local 23
, located on Bernard near St. Laurent, or by visiting the Apparel section of the
Gallery
.
>Pictured above, a new 4 foot wide commissioned wall-hanging is finished and up for viewing at the workshop until the first week of November! Stop by and feast your eyes on the warm southwestern colors and motifs, or treat your fingertips to an unforgettable textural experience. But please, there is no need take my word for it ...
Summer 2006 News Update
>In between rain showers earlier this June, Alpaca breeders Linda Murray and Bernard Sanchez generously hosted an informative tour of their Aristo Alpaca Farm in the Eastern Townships of Quebec. Thanks Aristo, for your cooperation, beautiful stock and fibers. visit
www.AristoAlpaca.com
>Who the Cap Fit on the mountain! Thanks to all those who sported felted hats in the heat, Sundays at the Tam Tams. See you all again next summer.
>Recycled cotton and hemp fiber paper, available locally via St. Armand Papeterie is now being used for all WTCF promotions. Thank you St. Armand for these fine chemical-free products. visit
www.St-Armand.com
>Congratulations to pample people and the Pamplemousse Explosion for their first successful summer tour, making stops in Montreal, Toronto and Buffalo, NY. Special thanks to Sam, Anna, Matt and the Infringement Festival organizers for making it all possible.
www.myspace.com/pamplemousseExplosion
www.infringementfestival.com
>Who the Cap Fit heads south to the Carolinas. New custom camouflage all-season caps are now available at Carolines Corner in Troutman, North Carolina, made possible thanks to Caroline!
>Lastly, I would like to thank Rita, Jordan, Steph, Anna, Jess, Ron, Johan, Dave, Sue, Natalya, Jeremy and my folks for their continued support during these summer months. Exciting changes lie just around the corner...